take this
Sep 08
No One Gets the Full Picture
No One Gets the Full Picture - "Those people around you… they're just as scared and nervous as you."
By: Anonymous

One of the things that I've noticed as I've grown older is that people seem much more composed from the outside than they generally feel inside.  In part, this is an element of the social contract; we try to make the world a better place for the people around us by hiding our own dissonance, much as we silence our cell phones when attending the theater.  Another part is an…
Aug 28
Time Present and Time Past
Time Present and Time Past - "I was living with a growing anxiety… though I usually just attributed it to stress."
By: Richard Kovarovic

Over a decade ago a man I'd never known, and never would know, hit me in the back of the skull with a hammer. The flat head came swiftly down and connected with my own, and the pressure of the blow split the skin, creating arms made of flesh forced to separate. The wound was like a bloodied starfish. My vision flashed metallic white, and the sound cut out, and I turned and…
Aug 22
What depression is
We asked Twitter what #DepressionIs. The answers were astonishing.
Depression affects around 6% of adults in America, but exactly what it is and how it affects people is hard to comprehend.

We asked people on Twitter to share with us what depression was like, in their experience.

https://twitter.com/TakeThisOrg/status/501487073002803202

The responses we received were extraordinary in both their volume and candor.

Here, from the followers of @TakeThisOrgon…
Shut Away in My Room
Shut Away in My Room - Joshua Moore shares his struggle of recognizing and dealing with social anxiety.
By: Joshua Moore

I'm not entirely sure when exactly my anxiety problems began. I believe it was around 2008 during my ninth year of high school. I was always sort of shy and quiet, but I didn't use to have any problems talking to people really.

Unfortunately I was in the same tutor group as a couple of nasty individuals who took notice of me and how quiet I am. They began to constantly make fun…
Aug 21
How 3,000 followers can be 3,000 messages of hope
For people dealing with emotional issues, hope can be as powerful as any drug.  Take This is a 501c3 non-profit charity established in 2012 to increase awareness of mental health issues and eradicate the stigma of mental illness.
Aug 19
Take This T-shirts and a new AFK Room come to PAX Prime 2014
The AFK Room comes to PAX Prime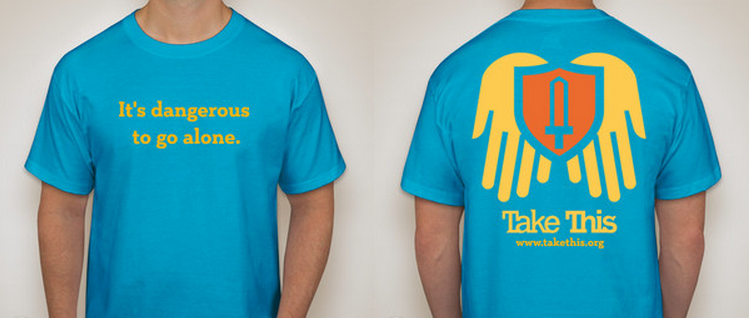 Take This is pleased to announce it will be returning to PAX Prime with the "AFK Room," mental health awareness training for volunteer "Enforcers" and a panel on helping those with mental health issues.

Attendees who find that the hustle of the show is "damaging their calm" will find relief at the Take This AFK Room. The room will be staffed with volunteers and mental health care clinicians who…
Aug 12
Robin Williams, suicide, and being a coward.
"Depression lies" - Take This co-founder Susan Arendt shares some powerful thoughts about suicide.
By: Susan Arendt

Robin Williams died yesterday at the age of 63, apparently taking his own life after dealing with long-term serious depression. This was heartbreaking news for many people, as Williams' career was built on bringing happiness and laughter to audiences. He was Mork, he was the Genie, he was Mrs. Doubtfire, and he was loved. As could be expected, some folks were annoyed, if not…
Jul 24
Game Designer Jason L. Blair Writes About Dealing With OCD
Over on his blog, "I Have My Eye On You," game designer Jason L. Blair has some thoughts to share about the true nature of OCD:

"I was exhausted. The more people I was around, the more energy I had to put into pretending I was fine. I couldn't let the mask slip. I couldn't let on that I was losing my mind. That I was under constant torture and just as constant pressure to act like everything was…
Apr 10
How to Be A Friend


by: Mark Kline, PsyD. Vice-Chair, TakeThis, Inc.

Friends and family are the first line of support for people with emotional problems. While it is wonderful to be trusted, this often creates anxiety and dilemmas. Friends worry they will say the wrong thing. Tolerating another person's pain and distress can be difficult. While there is no one right technique for every situation, here are some…
Apr 09
Behind a Glass Wall
Behind a Glass Wall - " I didn't deserve to live, let alone interact with other people."
By: Deborah Dalcin

Almost as far back as I can remember, I suspected something was wrong with me. As a child I was quietly critical of my body and general mannerisms. I would study other girls in my class and wonder why I wasn't pretty too. I wasn't hideous, or ugly, I looked like a little girl with a shy smile, but something kept whispering doubts in my head every day and normally I could ignore…